Ruler Fresh Semen Collection & Analysis
£117.00
Orders must be placed by 9am the day before semen is required. We cannot guarantee delivery for any orders placed later than this.
Year:      2014
Height:  15.1hh
Sire:       Ellerston Clarin
Dam:      Centimetre
Price EXCLUDES nomination fee.
Purchase nomination here.
Description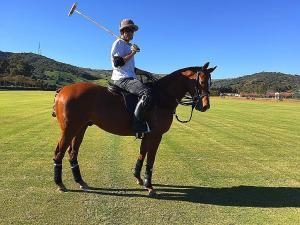 Up and coming stallion (Centimetre x Clarin) young stallion. Mother is Centimetre, played by Gonzalito Pieres, won Best Playing Pony in the Queen's Cup, daughter of Norman Pentaquad. Father is Ellerston Clarin, Jim Gilmore's stallion out of Claret by Machitos Diaz.
Please note that you are responsible for ensuring that the nomination fee of £1200 + VAT is paid directly to the stallion owner prior to semen being sent. We are not authorised to send any semen out without confirmation of this nomination fee being paid.